T32 Signaling Pathways in Innate Immunity
Four years ago, the Department of Microbiology and Immunology at the University of Maryland School of Medicine (UMSOM) was awarded a new training grant to enable graduate students and post-doctoral fellows the opportunity to obtain advanced training in the burgeoning field of innate immunity.
The Signaling Pathways in Innate Immunity (SPII) Program is comprised of more than 25 Training Grant Faculty (TGF) who are federally funded and are currently tackling complex problems related to the innate immune response in their research. For example, (i) how altered microbial chemistries modify interactions with innate immune receptors, (ii) structural biology of Toll-like Receptor (TLR) interactions, (iii) post-translational modifications of signaling proteins required for TLR signaling, (iv) discovery of endogenous proteins or antagonists that block TLR protein interactions and signaling, and (v) elucidation of downstream signaling pathways initiated by interferons that activate antiviral and antibacterial innate immune responses; (vi) the role of "alternatively activated macrophages in the induction and exacerbation of asthma, are the types of projects currently being studied.
During this first cycle of funding, we have been able to support two graduate students and two post-doctoral fellows per year, and our T32 trainees are a close knit and interactive group. There are many potential opportunities for diverse experiences in the laboratories of these TGF for pre- and postdoctoral trainees.
The SPII program is directed by Dr. Stefanie Vogel, Professor of Microbiology and Immunology, who has had extensive experience in studying innate immune mechanisms in response to infectious agents, primarily in macrophages. Drs. Achsah Keegan, Associate Director of the MD/PhD program at UMSOM, and Bret Hassel, Director of the Molecular Microbiology and Immunology (MMI) graduate program at UMSOM, are co-Directors of SPII. The majority of our graduate students and post-doctoral trainees come from the MMI program.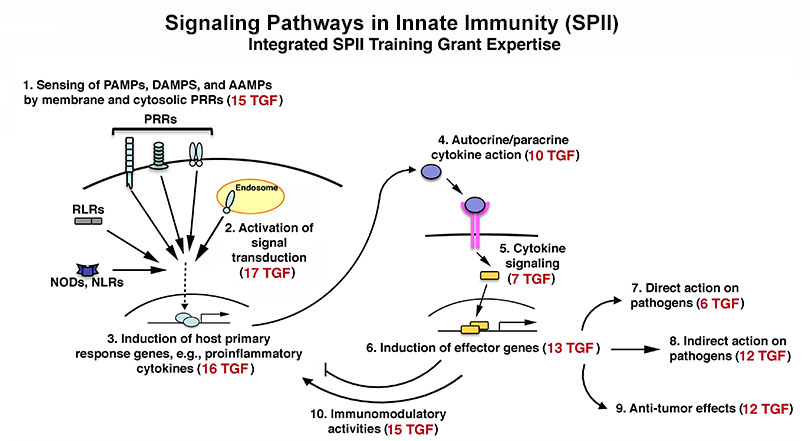 This figure is a model of innate immune signaling in which different aspects are numbered, with the number of Training Grant Faculty (TGF; in parentheses) who study each step. This figure emphasizes the potential for diverse experiences in the laboratories of our TGF for pre- and post-doctoral trainees. Interdisciplinary and multidisciplinary interactions among the trainees of our TGF is the norm, rather than the exception.
Program Plan
SPII is a novel program for advanced training in innate immunity, with special emphasis on the intracellular signaling pathways that mediate early host responses to infection and malignancy, as well as other inflammatory responses. UMSOM provides a rich training environment, with remarkable expertise among the basic science and clinical TGF who have a well-documented history of collaboration on grants and publications. The primary mission of this innovative training program is to nurture a cadre of exceptionally trained young scientists who will enter the work force and make pivotal advances in our understanding of the molecular mechanisms by which innate immune responses are mediated. Analysis of the complex signaling pathways that regulate innate host responses and how distinct signaling pathways intersect to alter host cellular physiology and biochemistry are key to development of new drugs to treat diseases such as sepsis.
As a result of their unique inter- and multi-disciplinary training experiences, we expect that our SPII trainees will enter the work force with a heightened level of intellectual maturity and inquisitiveness, state-of-the-art technical skills, and ethical responsibility required for future careers in academia, medicine, and industry, or as science educators and administrators. In addition to our academic training, additional courses in scientific writing, research ethics, reproducibility and rigor in scientific approaches, biostatistics, and other advanced courses are offered. In addition, the UMSOM offers additional courses in professional development.
All of our trainees have a mentor and advisory committee that meets regularly to advise our trainees on their projects and to discuss their ultimate plans. A series of "Scientific Careers" talks by individuals from various backgrounds is ongoing and enables our trainees to be exposed to consideration of non-academic positions in science. Attendance at journal clubs and seminars is an integral part of the training program, and provide opportunities to practice and improve communication skills.
Pre- and postdoctoral trainees in the SPII Training Program have extraordinary didactic and "hands on" training opportunities that are designed to enhance their educational experience. While our expectations are very high for SPII trainees, we also expect that they will develop into first-rate independent researchers.
Eligibility: To be eligible for consideration, the trainee must be a U.S. Citizen or have obtained permanent residency status and have advanced to candidacy and completed all required course work in the MMI or related GPILS program.
---
Contact Information:
Dr. Stefanie Vogel, Director
Department of Microbiology and Immunology
University of Maryland School of Medicine
680 W. Baltimore St., Rm. 380
Baltimore, MD 21201