2017
The Eighth Annual Cancer Biology Retreat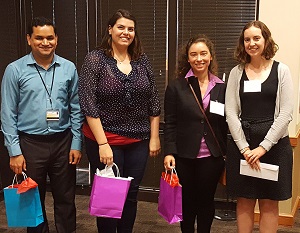 The 8th Annual Cancer Biology Research Retreat. The annual Cancer Biology Research Retreat involving all trainees and UMGCCC faculty was held on June 13, 2017 on the UMB campus. The schedule included a keynote speaker, oral and poster presentations by postdoctoral fellows, clinical fellows, and graduate students.
This year the invited keynote speaker was Dr. Ben Ho Park, a breast cancer researcher from the John's Hopkins Sidney Kimmel Comprehensive Cancer Center. The Cancer Biology T32 trainees organized and implemented the retreat with the assistance of faculty sponsors, Drs. Vitolo, Antalis, Winkles.
The Annual Retreat included oral and poster presentations to bring together the entire Cancer Biology community on campus, including a mix of basic and clinical researchers, GPILS and the University of Maryland BioPark Corporation. The retreat attracted over 110 registrants.
Outstanding Poster Presentation Winners:
Abstracts were written by the following presenters:
Predoctoral Posters: Nidhi Pamidimukkala, Stephen Pratt
Postdoctoral Poster: Nina Connolly, Blake Moses
Outstanding Oral Presentation Winners:
Presentations written by the following students and postdoctoral fellows:
Predoctoral Oral Presentation: Daniel Grun
Postdoctoral Oral Presentation: Gemma Puts
---
Event Photos
Tips: Mouse over the photo below and click the arrow to scroll through gallery. Click the image to view the gallery in full screen mode.
---
Keynote Speaker
Ben Ho Park, M.D./Ph.D.
Dr. Park attended The University of Chicago for his A.B. degree, followed by dual training at The University of Pennsylvania School of Medicine where he received both his M.D. and Ph.D. degrees in 1995. He then trained in Internal Medicine and Hematology/Oncology at The Hospital of The University of Pennsylvania prior to coming to Johns Hopkins where he completed a post-doctoral fellowship in cancer genetics in the laboratory of Drs. Ken Kinzler and Bert Vogelstein.
In 2002, Dr. Park joined the faculty as an Assistant Professor of Oncology at The Sidney Kimmel Comprehensive Cancer Center at Johns Hopkins where he is developing new therapeutics and diagnostics for breast cancer using genetic based approaches.
He is currently Professor of Oncology in the Breast and Ovarian Cancer Program at Johns Hopkins and the Associate Director of the Hematology/Oncology Fellowship Training Program and Associate Director for Research Training and Education.
---
Cancer Biology Research Retreat Organizing Committee
Jimena Dancy, Chair, Graduate Student
Justine Yu, Graduate Student
Will Fondrie, Graduate Student
David Wisniewski, Graduate Student
Blake Moses, Ph.D., Postdoctoral Fellow
Rachel Lee, Ph.D., Postdoctoral Fellow
Michele Vitolo, Ph.D., Faculty Advisor
Jeff Winkles, Ph.D., Faculty Advisor
Linda Horne, GPILS Molecular Medicine Program
---
Sponsors