2013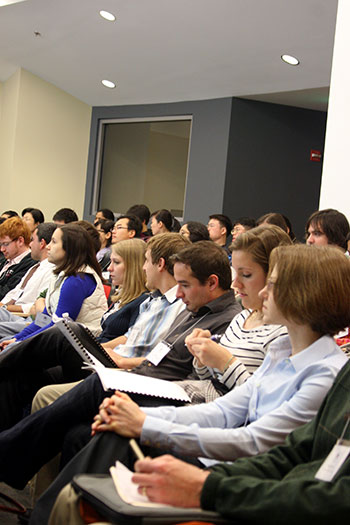 The Fourth Annual Cancer Biology Retreat was held on May 22, 2013 in UMB SMC Campus Center, University of Maryland, Baltimore, MD. The Cancer Biology Retreat was a one-day event open to all graduate students as well as postdoctoral and clinical fellows, and faculty involved in cancer or cancer-related research. It was a great success with 180 participants.
This event was a great opportunity for all participants to interact and share research ideas and techniques in an informal and relaxed environment.
The program included oral and poster presentations selected from abstracts submitted by postdoctoral fellows and graduate students.


Outstanding abstracts selected for oral presentation were:
Graduate Students: Emily Cheng, Jennifer Fox, Elizabeth Chang, Erin Harberts and Amanda Boggs
Postdoctoral Fellows: Gargi Bandyopadhyaya, Ph.D., Jennifer Huang, Ph.D., Jasjeet Bhullar, Ph.D., Katie Leonard, Ph.D., and Smitha Awasthi, Ph.D.


Outstanding poster prize winners were:
Graduate Students: Erik Martin, Marey Shriver and Irina Tiper
Postdoctoral Fellows: Michael Cavalier, Ph.D., Wen-Chih Cheng, Ph.D., Preeti Shah, Ph.D.


Keynote Speaker: Patricia S. Steeg, Ph.D., is the Chief of the Womens Cancers Section in the Laboratory of Molecular Pharmacology, NCI. Click here for BIO.
Organizing Committee: Monica Charpentier (Chair), Jennifer Fox, James Steinhardt, Tyler Kochel, Sarah Brennan-Laun, Ph.D., Michael Cavalier, Ph.D., Mark Lafferty, Ph.D., Jeff Winkles, Ph.D., Sharron Graves
Sponsors: The Marlene and Stewart Greenbaum Cancer Center, the University of Maryland BioPark and the Graduate Program in Life Sciences.