2015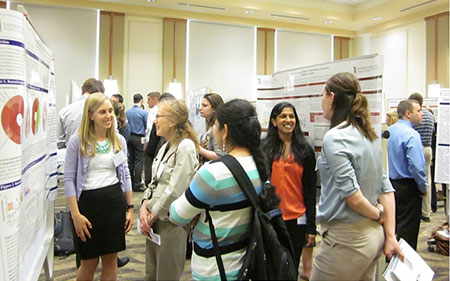 The Sixth Annual Cancer Biology Retreat was held on May 18, 2015 in the UMB Southern Management Company Campus Center. As in previous years, the retreat was open to undergraduates, graduate students, postdoctoral and clinical fellows, and faculty involved in cancer or cancer- related research. The Cancer Research Retreat was a great success with a total of 115 attendees (37% graduate students, 20% postdoctoral fellows, 7% NSIP interns/undergraduate students, 2% medical students, 2% other researchers and 31% faculty).
The 2015 Cancer Retreat provided an informal and relaxed environment where its participants could share research findings, ideas and techniques, and career opportunities and experiences. The programincluded two oral sessions (predoctoral and postdoctoral) and two poster presentation sessions.
Outstanding abstracts selected for oral presentations were written by the following presenters:
Pre-doctoral students: Christina Ross, Nidal Muvarak, Daniel Grun, Erik Martin
Post-doctoral fellows: Dr(s) Katie Leonard, Lorenzo Stramucci, Kyu Lee Han, Palak Parekh
Outstanding Poster prize winners were written by the following students and postdoctoral fellows:
1. Cheryl Armstrong
2. Christopher Coey
3. Nidhi Pamidimukkala
4. Alexander Tsai
5. Swarna Pidugu
6. Giovannino Silvestri
Keynote Speaker:
Victor Velculescu, M.D. Ph.D., is Co-Director of Cancer Biology and Professor of Oncology and Pathology at the Johns Hopkins University Kimmel Cancer Center. His research interests are focused on genomic analyses of human cancer and using such information to understand the underlying biology of cancer and to identify new diagnostic and therapeutic approaches.
Organizing Committee:
Kristi Chakrabarti (Chair), Tyler Gable, Greg Conway, Nina Connolly, Nadire Duru, Lindsay Hessler, Michele Vitolo, Ph.D. (Faculty Advisor), Jeff Winkles, Ph.D. (Faculty Advisor), Marcina Garner (Program Manager, GPILS Molecular Medicine),
Sponsors: